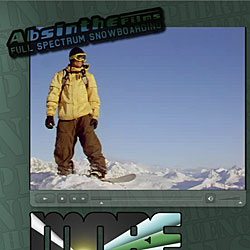 Absinthe Films - More
Nachdem man nicht die ganze Zeit arbeiten kann - geht's heute mit der
AY&R Crew
ab 20 Uhr ins
Kaufleuten
zur Weltpremiere von
More
. Der Trailer ist schon sehr fein geworden, also man sieht sich Zürich oder auf einem anderen Tourstop.
Der Eranium Mailserver ist zurzeit down – darum gibt es leider keinen Newsletter zu diesem Eintrag. Danke Werner!!!
Once again Absinthe Films raises the bar to bring you More. This title marks the beginning of a new era for Absinthe Films as they have broadened their scope to include and properly represent urban riding while still keeping the overall blend fresh and un- repetitive. Three years after first joining forces with the Air Burro Jet-Pack Camera Team, Absinthe Films is ready to unveil a new way of looking at snowboarding with the new Hover-Track Jet-Pack camera system bringing you closer to the action than ever before and separating this film from the herd. Plus all of the technical magic, good times, deep pow, travel and massive jumps you have come to expect from Absinthe. All of this set to another unpredictable and fitting soundtrack that will have everyone clamoring for More. oh yeah.....
Zurück zum Archiv